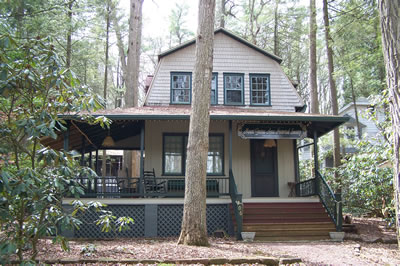 Sunday, April 27, 2014, 2:00 pm, Mount Gretna Fire Hall
"History of Mt. Gretna Seen Through the Camera Lens"
This presentation will include photographs and postcards depicting the building of the Cornwall & Lebanon Railroad with a stop at Mount Gretna, a small picnic grove established by Robert Habersham Coleman, beginning and development of the Pennsylvania National Guard Encampment, the development of the picnic grove into an amusement park, the establishing of the Pennsylvania Chautauqua, the Evangelical United Brethren Campmeeting, the Heights and Kauffman Park.

Included will be scenes from six newly acquired postcard photographs of "Stoverdale." These photographs give a flavor of the early United Brethren in Christ Campmeeting grove in Stoverdale near Hummelstown prior to its moving to Mount Gretna in 1892 because of the worldly environment that surrounded them on the Sabbath. You will view the similarity of the Stoverdale campground and architecture with the newer Mount Gretna campus.

Sponsored by Rhoda Long of Brownstone Real Estate. All are welcome, no charge for MGAHS Members – Others by Suggested $5.00 Donation.
Mt Gretna Review
The Mt Gretna Historical Society announces the inauguration of a new peer reviewed literary journal titled The Mt Gretna Review with the first issue initially planned for early 2013. The journal welcomes submissions of poems, short stories, historical narratives, book reviews, black and white drawings and photographs about Mt Gretna and the surrounding region. Submissions are welcomed at any time and will be reviewed by a member of the Editorial Board. Initially, issues will be published when sufficient material is in hand to complete an issue. Only original contributions are solicited and can be submitted via email to mtgretnareview@aol.com. Should you have any questions, please contact us via email at the above address. We welcome your submission.
Museum and Library/Research Center
October thru May the Museum and Library/Research Center are open by appointment. Contact Pat Pinsler 717-964-3858 or Tom Meredith 717-964-3813.
In Memory of Jack Bitner
1917-2008
In Memory of
Patricia Attwood (Light)
1926-2008
Copyright © 2007-2014
Mt. Gretna Area Historical Society
All Rights Reserved