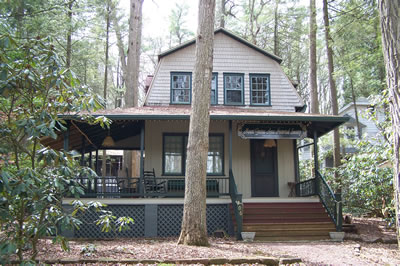 Porch Sale
, May 28, 2016 - 8:00 AM to 2:00 PM
Porch Party for Members
, May 29, 2016 - 4:00 PM to 6:00 PM
Antiques Appraisal Fair
, June 4, 2016 - 9:00 AM to 12:00 PM
Historic Archaeology at the Alexander Schaeffer Farm/Distillery
Presented by Dr. Pat Gibble.
Celebrating Mount Gretna. Documentary movie premiere of "Mount Gretna: A Perennial Spirit"
Reception to follow celebrating our National Register historical designation and 124th birthday. Limited seating. $10 admission, $5 for Society members. Questions, call 964-1830 or 964-1956.
REGISTER/DVD
Mt. Gretna Train Station, Amusement Park, and Narrow Gauge History Walk
Guided by Ron Hontz.
The Clarence Schock I Knew
Presented by Frank Eichler.
The Hotels of Mt. Gretna
Presented by Ron Hontz.
Museum and Library/Research Center
Memorial Day weekend through Labor Day weekend the museum is open Saturdays and Sundays from 1:00 PM to 4:00 PM. Library/Research Center open Saturdays 10:00 AM to 12:00 PM or by appointment. Call 717-964-1105 or email us at
info@MtGretnaHistory.org
>.
Jack Bitner
1917-2008

Patricia Attwood (Light)
1926-2008

Patricia McCarty Pinsler
1927-2015
Copyright © 2016
Mt. Gretna Area Historical Society
All Rights Reserved